1win Deposit options in India
In order to start gambling on 1win, every Indian user must first deposit money into their balance. With the account currency, you determine when you create your account and use it later on for your deposits and withdrawals. INR is included in the list of major currencies at 1win.
Here we would like to tell you all about 1win deposit methods, the basic limits and how to fund your account in India to start winning!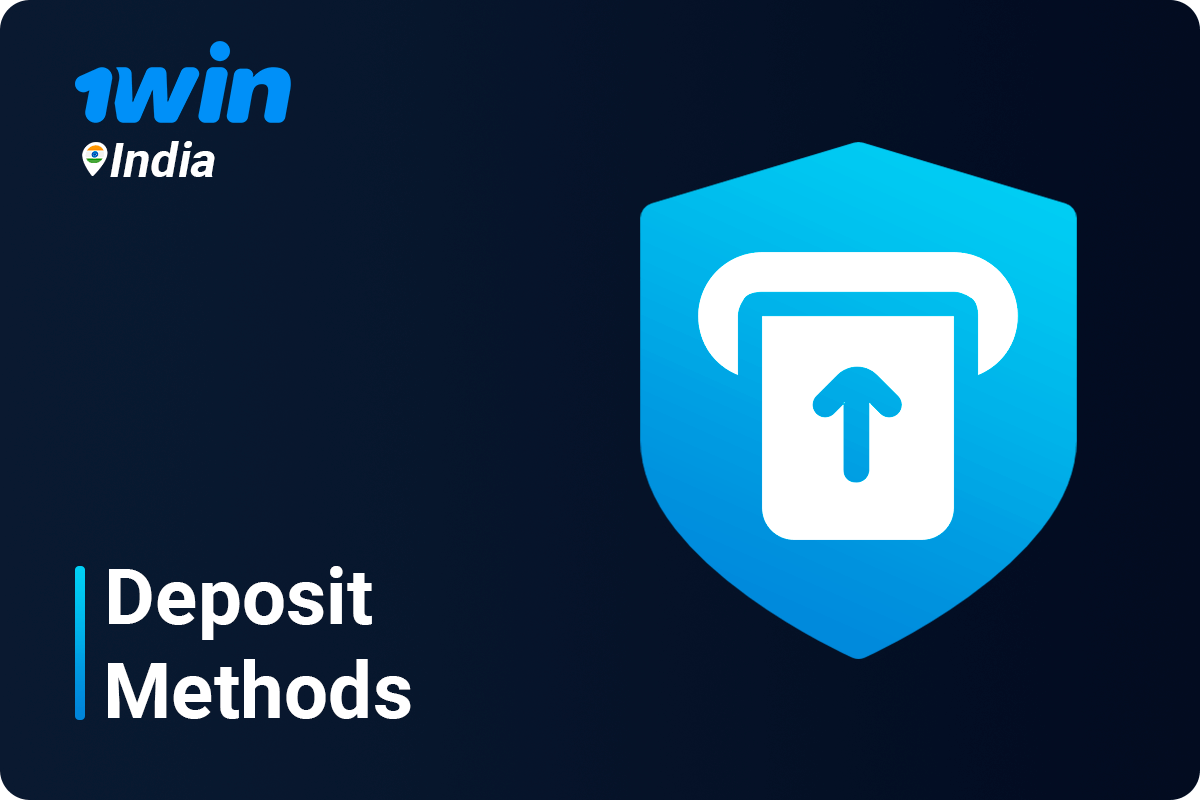 Deposit methods
In order to provide our Indian customers with maximum comfort in all aspects of payments, we have added dozens of methods for transactions in INR. This is the currency you choose as the main currency of your account when you create it. We process all transactions through official payment system pages, so they are secure and the money appears on your balance as soon as your payment is confirmed.
We do not charge our customers any transaction fees, however, the payment systems themselves may have them.
The basic information on the methods and limits of the payment options at 1win is shown in the table below: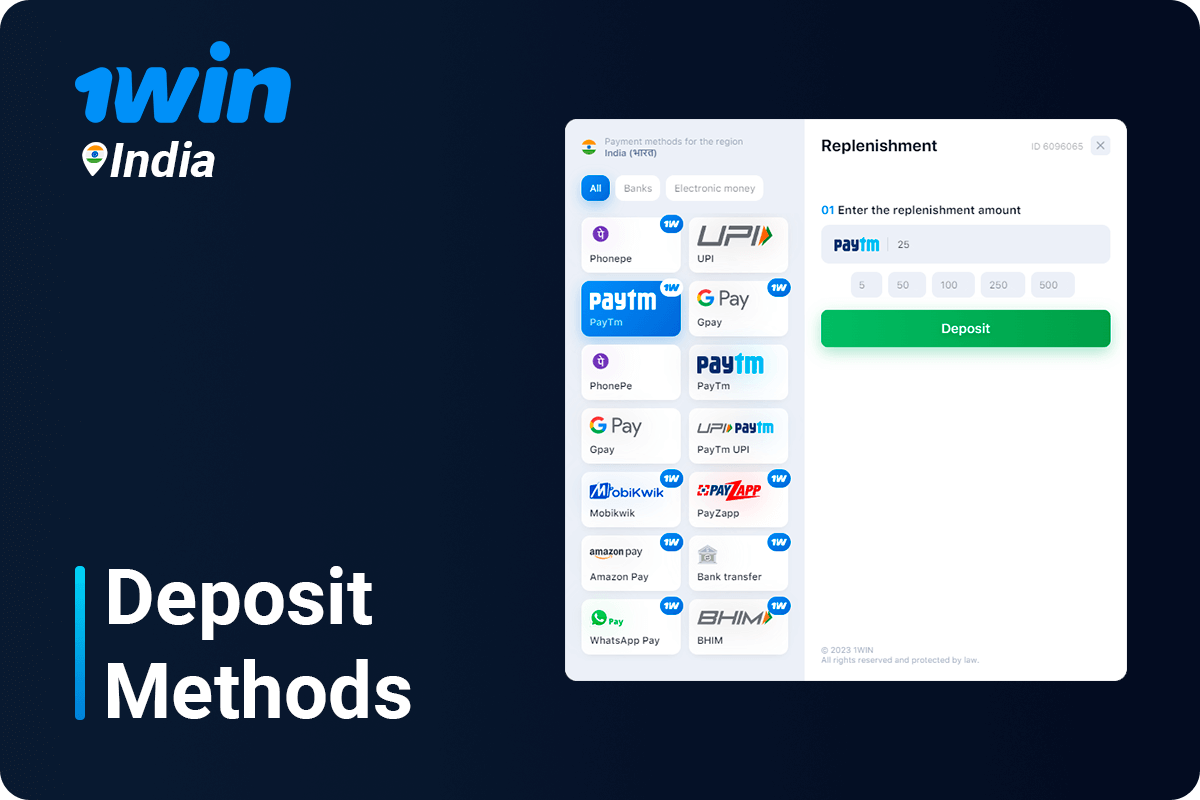 | Payment Method | Minimum Deposit, INR | Maximum Deposit, INR | Processing time | Commission |
| --- | --- | --- | --- | --- |
| UPI | 300 | 100,000 | Instant | None |
| PhonePe | 300 | 100,000 | Instant | None |
| Bhim | 300 | 70,000 | Instant | None |
| PayTM | 300 | 70,000 | Instant | None |
| Google Pay | 300 | 100,000 | Instant | None |
| PayZapp | 300 | 100,000 | Instant | None |
| MobiKwik | 300 | 100,000 | Instant | None |
| FreeCharge | 300 | 100,000 | Instant | None |
| AmazonPay | 300 | 100,000 | Instant | None |
| Bank Transfer | 300 | 100,000 | Instant | None |
| Airtel | 300 | 100,000 | Instant | None |
| AirTM | 300 | 75,000 | Instant | None |
| AstroPay | 300 | 600,000 | Instant | None |
| Perfect money | 300 | 70,000 | Instant | None |
| MoneyGo | 150 | 745,300 | Instant | None |
| Crypto | 300 | 100,000,000 | Up to 15 min | None |
How to Deposit Money to 1win?
The process of depositing money into your 1win player balance is very simple and does not take up much of your time. Use our detailed step-by-step instructions to do it as quickly as possible:
1.Log in to 1win India;

Open our official website or app and sign in to your account using your email/phone number and password by clicking on the login button.

2.Go to the deposit menu;

Click on the green deposit button and you will be taken to a page with all the methods available to you.

3.Select a method;

Click on the payment method that you would like to use for your 1win money transaction;

4.Confirm the transaction.

Enter the amount, e-wallet, bank account or crypto-purse details in the appropriate fields, then confirm the deposit on the payment page.
You have done so successfully, and the money will appear in your 1win account balance immediately. They are immediately available for your betting, casino and poker games.
Popular Deposit methods
There are more than a dozen ways to fund your account, but by analyzing our users from India, we found that the three payment methods they use most often for their transactions are Paytm, Google Pay and cryptocurrencies. We'll tell you a little bit about these payment systems and how to make 1win deposits using them.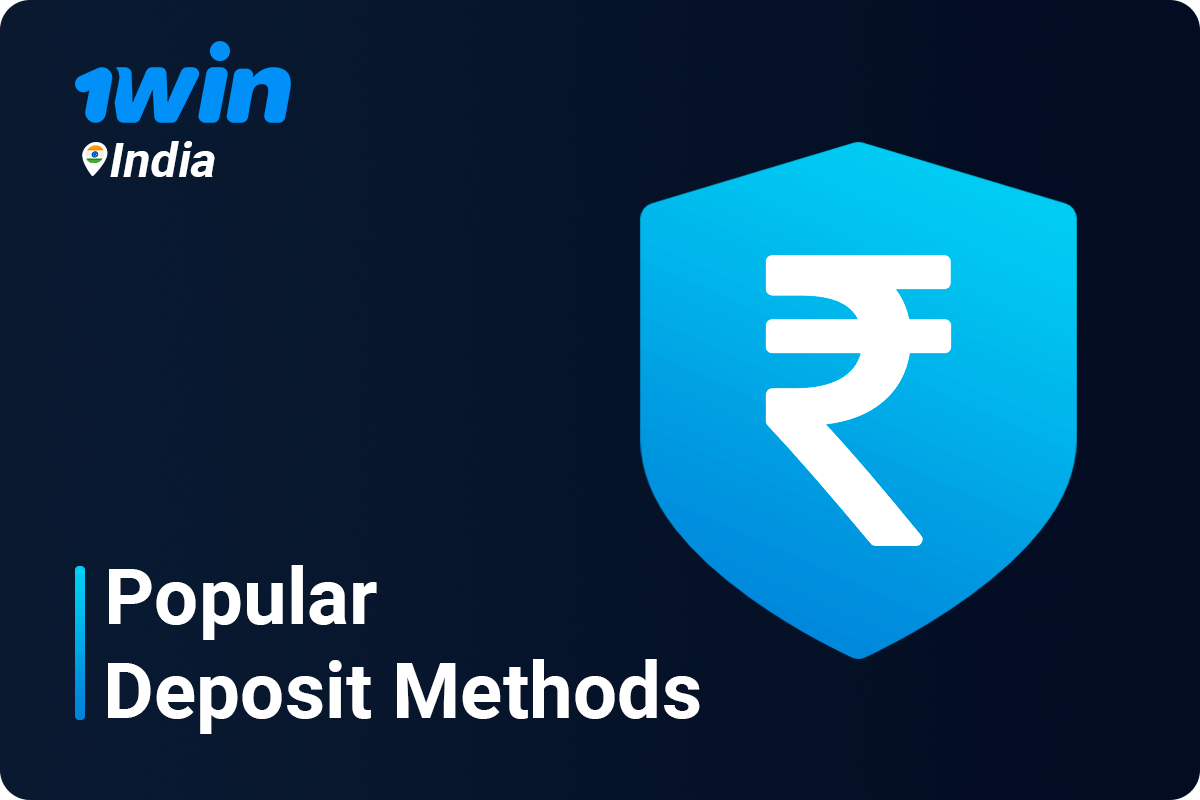 Paytm deposit
The minimum deposit for transactions using Paytm is INR 300 and there are no commissions. Here's a little instruction on how to make a transaction on using this method:
Click on the deposit button and navigate to the methods page;
Select Paytm and enter the amount;
You will see the QR code, name and UPI ID of our wallet, deposit your money there;
Click "i Paid", enter the 12 digit transaction ID and click on the confirm button.
You now have to wait for a few seconds for your deposit to be processed and the money to arrive in your account balance. When they appear in your account, they will be available for use in our gambling sections.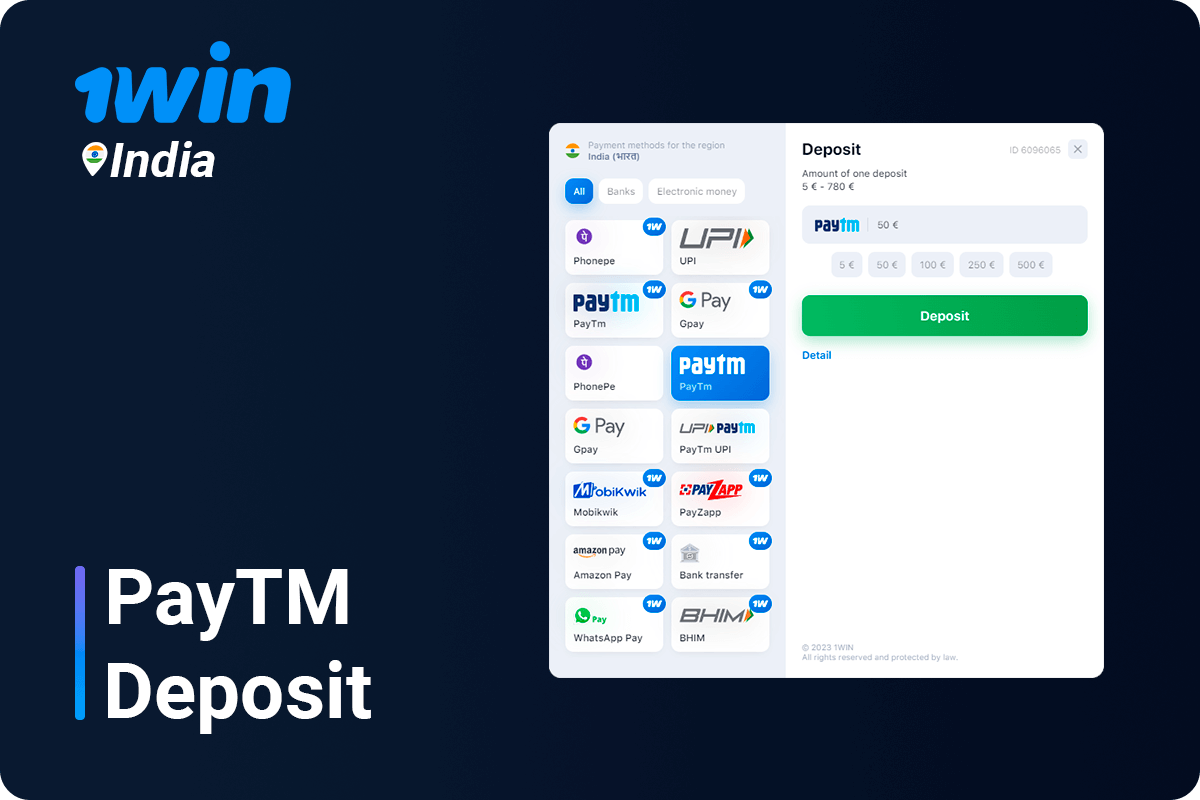 Skrill
Making a transaction with Google Pay is also very easy, the minimum deposit is INR 300.
Here is a little instruction on how to do it:
Click on the top-up button in your 1win personal cabinet;
Select GPay from the list of payment systems;
Enter the amount in the appropriate box and click on the confirmation button;
You will see the QR Code, Name and GPay UPI ID. You need to send your amount to these credentials;
Enter 12 Digit UTR in the special window and press the confirmation button.
Once you confirm, the money will be credited to your account immediately.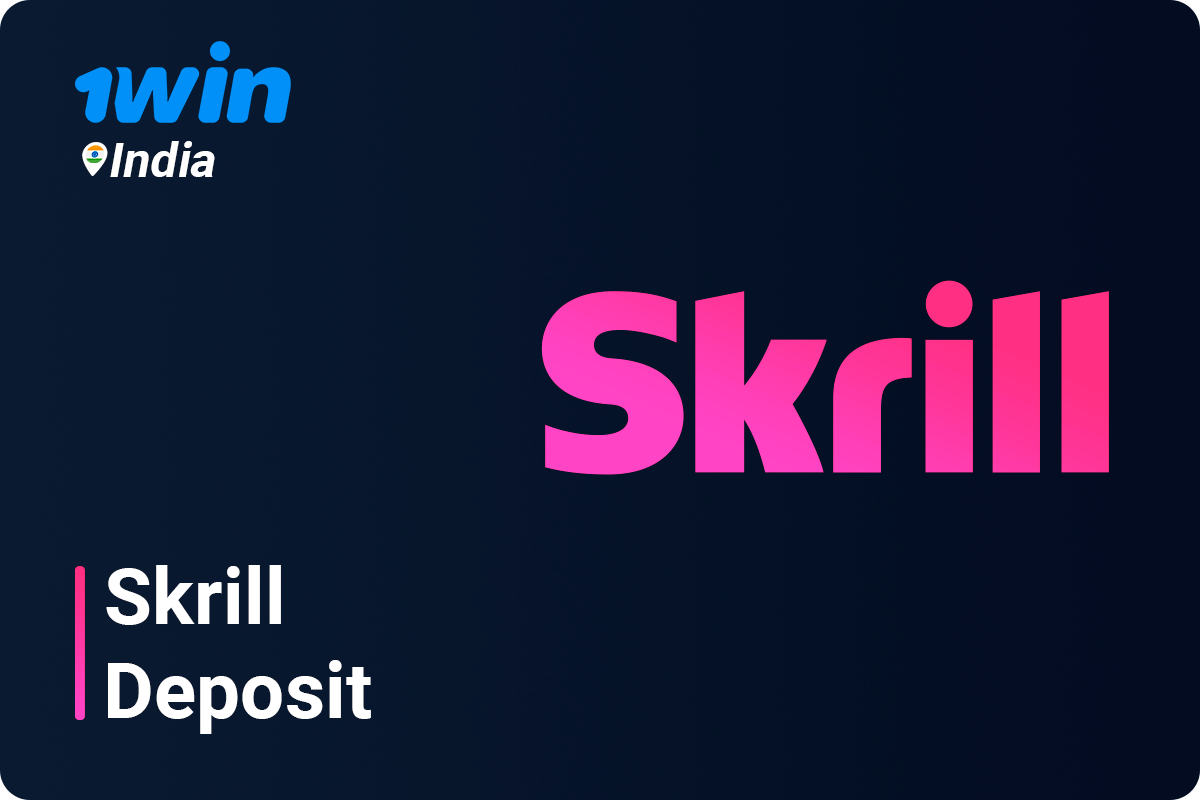 Crypto
At 1win, users can make a deposit in more than 10 different cryptocurrencies, each with its own minimum deposit, but in most cases it is INR 300 in equivalent.
Here are the instructions on how to make a transaction using cryptocurrencies:
Click on the deposit button and select the cryptocurrency you want to use to fund your balance;
Enter the amount and click on the confirmation button;
Click on "Go to the payment";
A QR code for the wallet will appear in front of you, along with the wallet address in text format for your convenience, deposit your money into it;
Next, you need to wait for the money to arrive on your balance. Sometimes this can take up to 15 minutes, and this time depends on the cryptocurrency wallet where you keep your cryptocurrency.
It's very important to send the exact cryptocurrency that's linked to your wallet. Otherwise your money may simply disappear.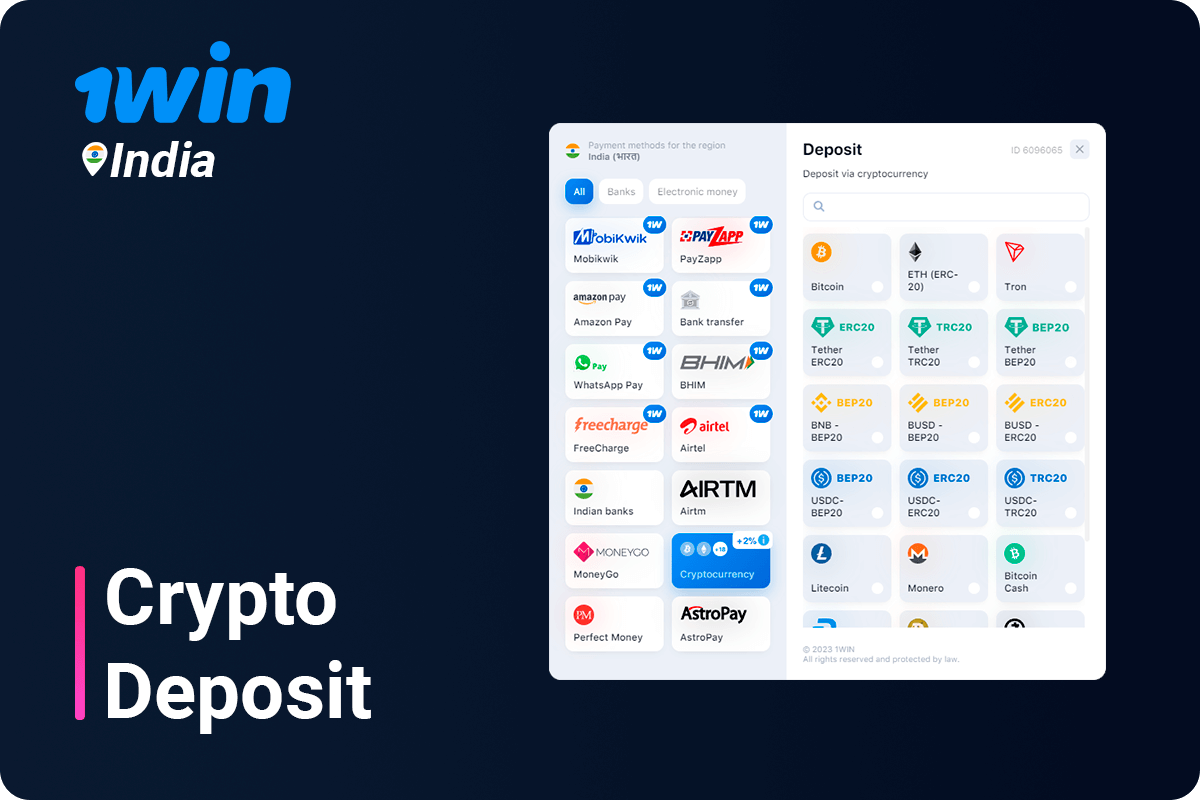 FAQ
What should I do if I have a problem with my deposit at 1win?
Contact our support team and describe your problem in as much detail as possible. They will reply within a few minutes and help you solve the problem.
How long does it take for money to be credited to 1win after a cryptocurrency transaction?
It depends entirely on the wallet you keep your currency in and usually doesn't take more than 15 minutes. If the money hasn't arrived, please contact our team and they will check the details.
Are there any transaction fees at 1win?
We do not charge any internal commissions for deposits at 1win. However, these fees may be collected by e-wallets and cryptocurrency wallets which you use for your 1win deposits.