Online Cash or Crash Game at 1win
Cash or Crash is a popular game from the world-renowned provider Evolution with a very high RTP and a maximum win of 50,000x per bet. This is a live casino game where you have to make decisions, and those decisions will determine whether you get your winnings.
Sign up at 1win, claim your 500% bonus up to INR 145,000 and start winning at the Cash or Crash live game today!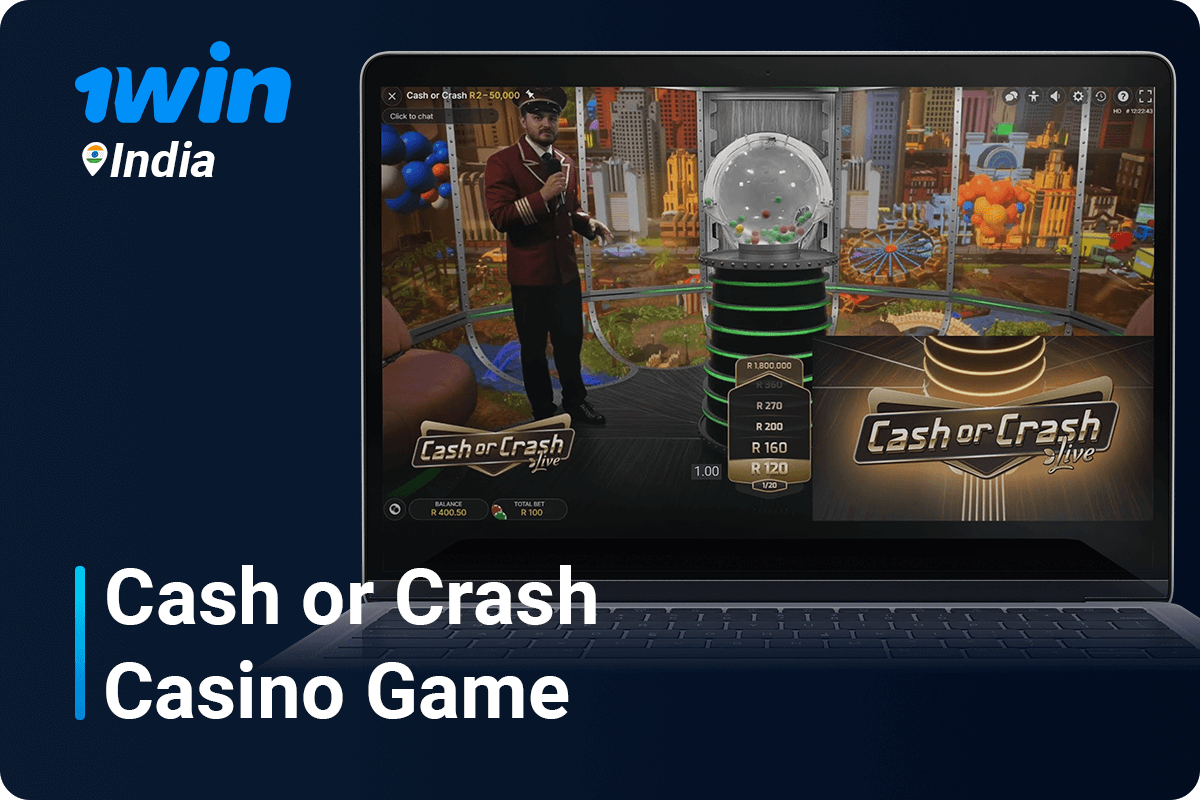 Basic Rules of the Cash or Crash Game
Cash or Crash is a Live casino game that is conducted by the dealer. In fact, he does not affect the gameplay, but simply entertains the audience. The game involves a lottery machine. There are 28 balls dangling in it – 19 green, 1 gold and 8 red. Here are the basic rules of the game:
You place a bet and wait for the draw of the round to begin;
When the green ball is drawn, you move up one step on the pay table;
You can stop (take your winnings), take half your winnings or continue playing;
Further, if the green ball rolls again – the winnings increase even more, and you have to make a choice again;
If the red ball is drawn, you lose;
If the gold ball is played, it is a kind of shield and protects you from the red ball once;
The RTP reaches 99,59% and the maximum win per bet is 50,000x (for 19 green balls);
The winnings increase with each increment, however, the number of green balls gradually decreases, which increases the chance of a red ball appearing.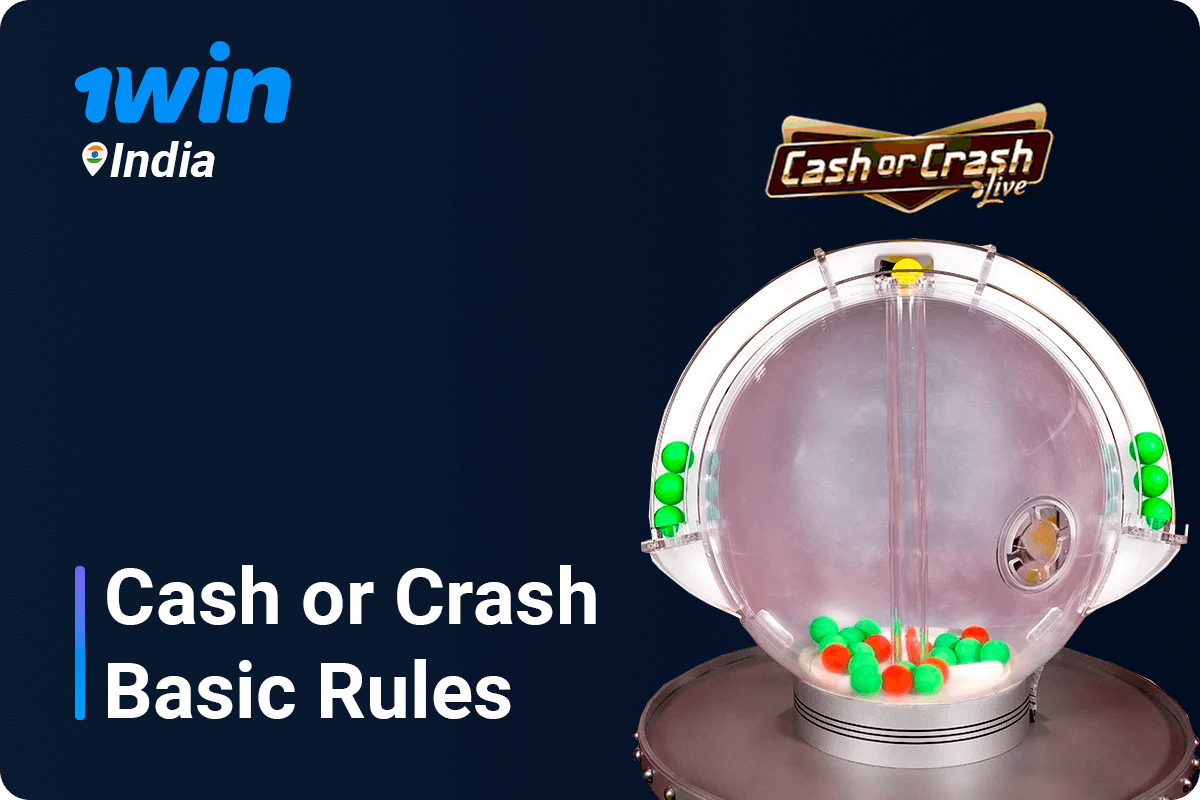 Cash or Crash betting options
When a green ball is drawn or after your shield has been broken (gold ball), you must select one of the following options on the screen by pressing the appropriate button
Continue – your bet amount is retained in full. A red ball after this decision means that you have lost your bet and you start the game again.
Take Half – Cash out 50% of your potential winnings and continue playing with the remaining 50%.
Take All – cash out 100% of your winnings and finish the game.
You have a few seconds to make a decision and if you don't make it, the game will decide you want to continue.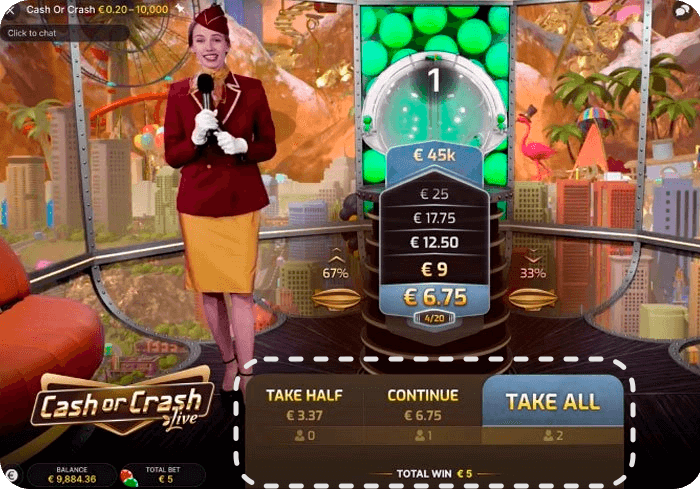 Cash or Crash Levels
As you reach a new level (for each green ball) your winnings increase. In the table below we have collected data on how exactly the winnings grow:
| | | | |
| --- | --- | --- | --- |
| Level 1 | 1.2x-1.2x | Level 11 | 33x-36x |
| Level 2 | 1.6x-1.7x | Level 12 | 54x-62x |
| Level 3 | 2x-2.2x | Level 13 | 95x-105x |
| Level 4 | 2.7x-3.1x | Level 14 | 160-175x |
| Level 5 | 3.6x-4x | Level 15 | 310x-360x |
| Level 6 | 5x-5.6x | Level 16 | 550x-760x |
| Level 7 | 7.1x-8x | Level 17 | 1,200x-1,500x |
| Level 8 | 10x-10.5x | Level 18 | 2,900x-4,000x |
| Level 9 | 15x-16x | Level 19 | 6,800x-11,000x |
| Level 10 | 21.5x-24x | Level 20 | 18,000x-50,000x |
How to start playing the Cash or Crash at 1win?
Anyone over the age of 18 can start playing Cash or Crash at 1win for real money. We have prepared instructions on how to start winning at it:
Go to the website or open the 1win mobile app;
Create your account by clicking on the green registration button and filling out the form;
Deposit money into your balance in any way that is convenient for you by clicking on the deposit button;
Find Cash or Crash casino game on our Live-games page and click on it;
Place your bets and collect your winnings!
You place your bets through the easy-to-use virtual game board, and if the green ball comes up, you decide whether to keep playing or take your winnings. Any winnings you receive will be credited to your balance.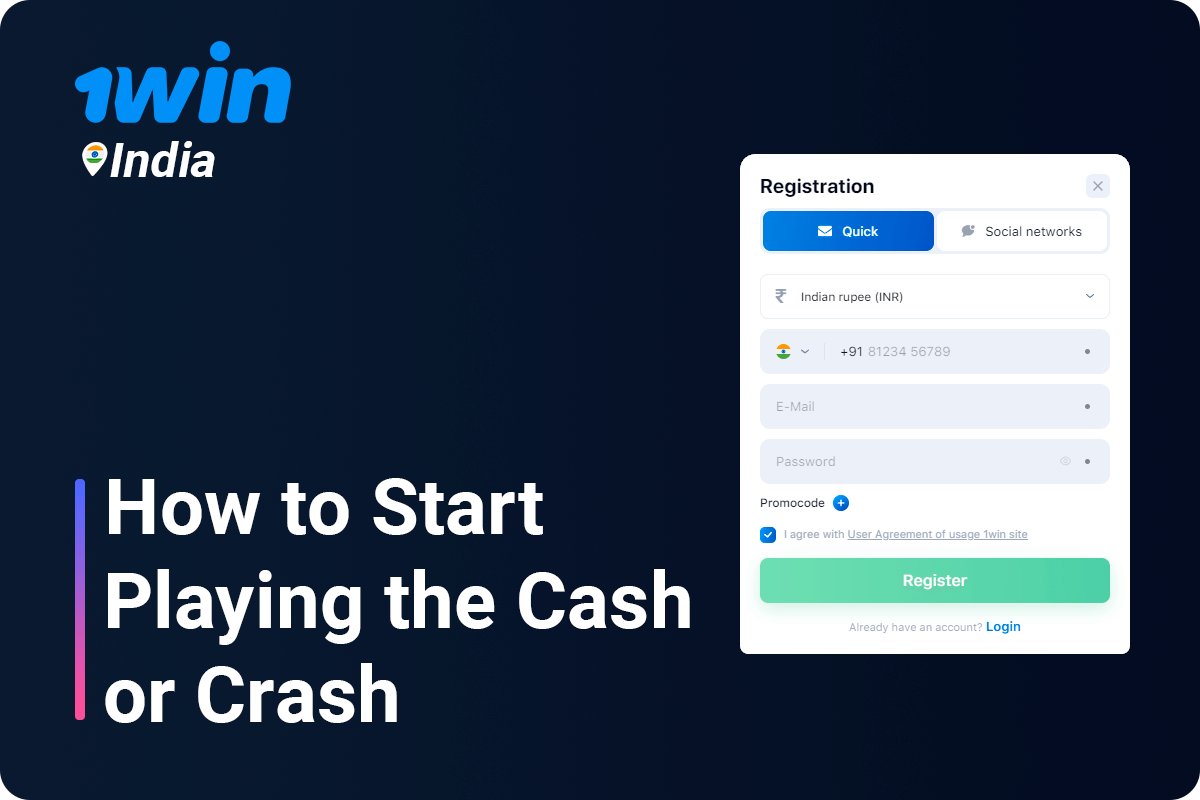 1win Bonus for New users from India
For all new users from India who do not have a 1win account yet, we are offering a welcome bonus of 500% on your first deposit up to INR 145,000. This money will go into a separate bonus balance in your account. You will receive up to 30% cashback on the money you lose in our casino during the week. This money will be deducted from your bonus balance and credited to your main balance. The exact amount of the cashback depends on the amount you lose during the week.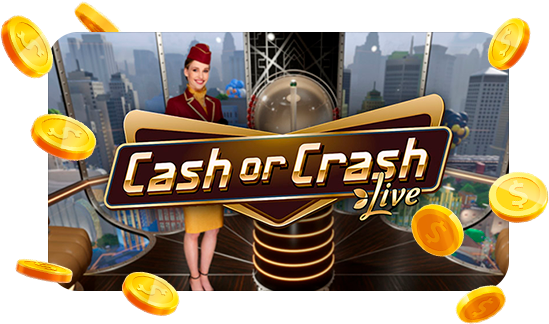 Download Cash or Crash App for Android and iOS
You can download our 1win app to your smartphone to play Cash or Crash and other casino games at any time. Here are some instructions on how to download the app to your gadget:
Open the 1win mobile website from any browser on your smartphone;
At the bottom of the home page, find the app download buttons;
Choose the version suitable for your smartphone (Android or iOS);
Download and install the app on your gadget.
By opening Cash or Crash Evolution Gaming in the app, you will also see the broadcast and be able to place your bet via the game board. Winnings will be credited to your balance as soon as you receive them in the game.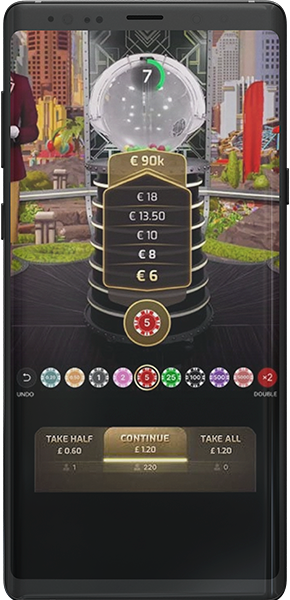 Tips and Tricks for Playing Cash or Crash Game
There is no Cash or Crash strategy that guarantees victory. The lottery machine is completely unpredictable, and you will never know which ball will be next. However, there are a number of tactics that active players use that we want to tell you about:
High Bet. In this tactic you bet high, stopping after the first or second green ball;
Low Bet. You bet low, but try to catch as many green balls as possible to get a big win;
Half strategy. After each green ball, you are given a choice – you can withdraw only half of your winnings and continue playing. Withdraw half until you completely recoup the size of your bet.
Odds Estimation. After each green ball, the probability of getting another green ball is displayed for you, always pay attention to this percentage.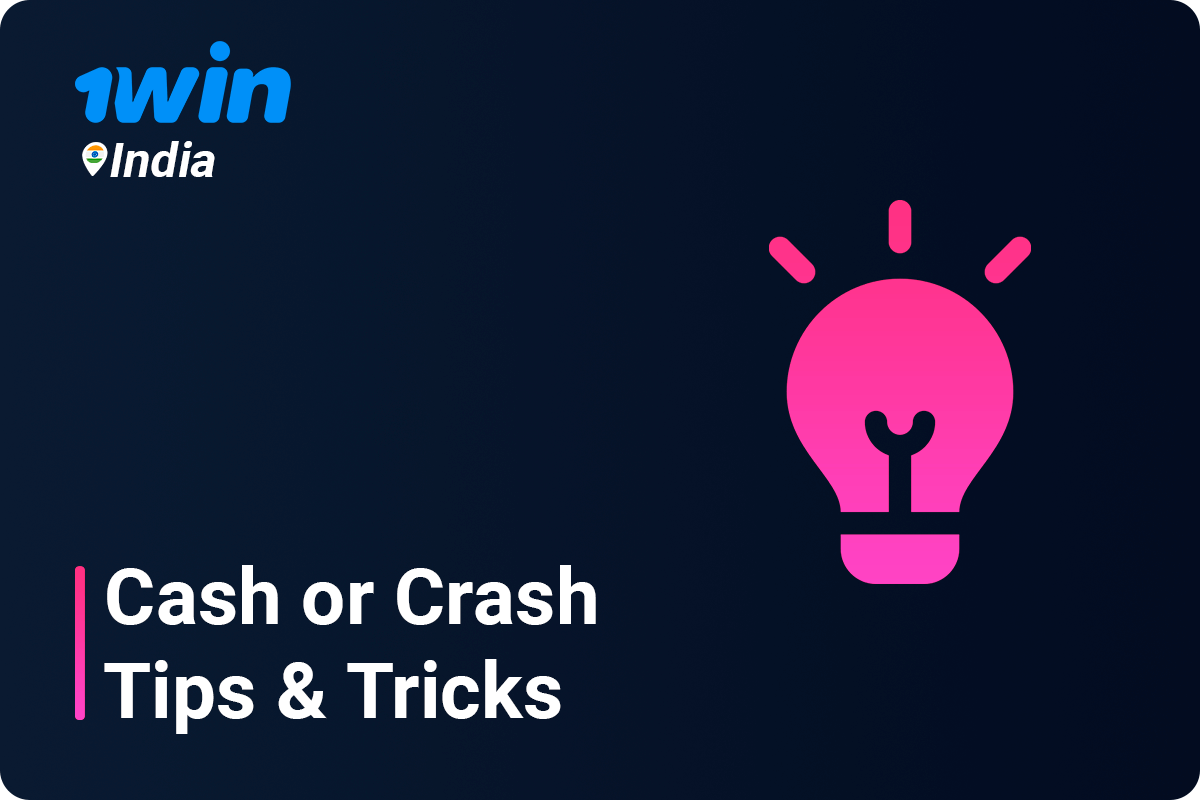 Main Benefits of 1win Cash or Crash game
The Cash or Crash Evolution game is very popular among gamblers around the world. We would like to highlight the most important features that make it so famous:
Pros
Cash or Crash live game has a nice format and the game is played by a charismatic dealer;
It's a Live Casino game and you watch all the action through live streaming;
The maximum winnings you can get in a single round is 50,000x and Crazy Time Live has an RTP of 99,59% which is very high;
The user makes the decisions on which the probability of winning depends;
The game is played around the clock and each presenter will be charismatic and sociable in his own way, which will definitely allow you to relax and get pleasant emotions.
FAQ
How to play Cash or Crash?
You place a bet and the lottery machine gives out balls. Green ball – you continue the game or take your winnings, red ball – you lose, gold ball – protects you from one red ball.
What is the maximum winnings in Cash or Crash?
The maximum winnings are 50,000x and that is if all the balls the lottery machine gives out are green and the last one is gold.
What is the best Cash or Crash strategy?
There is no strategy that guarantees victory, as the lottery machine works in a completely unpredictable way, so play the way you like and have fun.